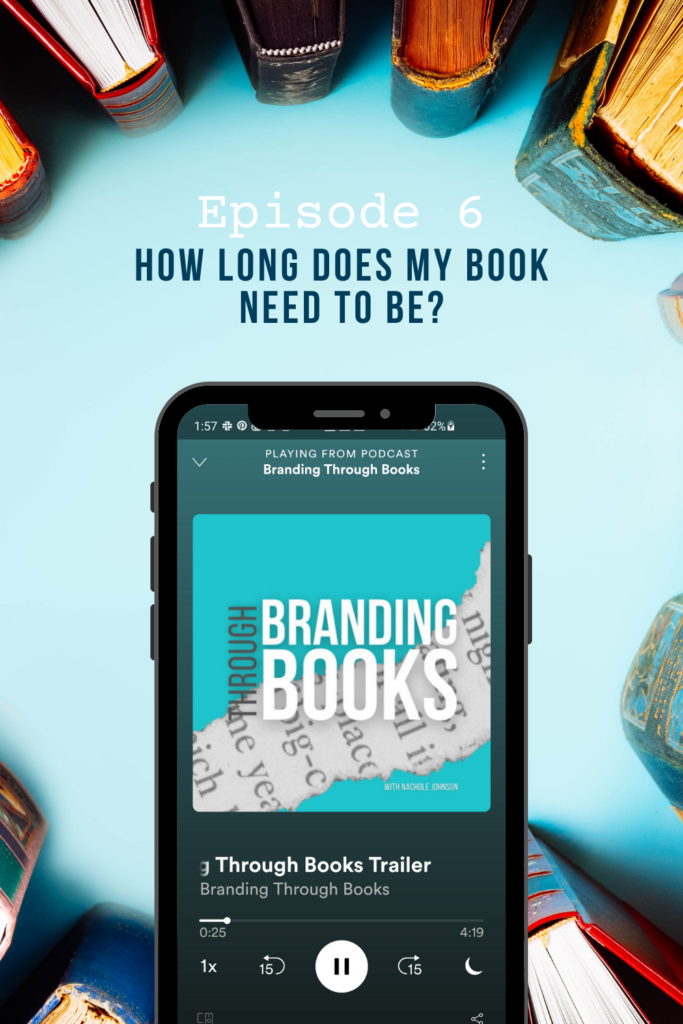 Audio Transcript
Welcome back to the Branding Through Books podcast. I'm your host, Nachole Johnson, and on today's episode, we're going to be talking about how long a book needs to be. I get a lot of questions as an author whose written over 30 books myself from new people wanting to write books, but they really just don't know how long their books should be and they get stuck on a certain number.
Let's go ahead and get into today's episode.
One of the most common questions I get from aspiring authors about writing their first book is how long should it be? There's no right or wrong answer to this question.
If you're publishing on Amazon, they don't specify a word count.
They care about page count.
The minimum number of pages to print a book on Amazon is 24 pages. Remember, the pages aren't the usual eight and a half by 11-inch pages you write your manuscript on. This is what the trim size or the actual book size will be once it's in the hands of readers.
The bare minimum word count I would recommend if you're publishing on Amazon is 10,000 words.
Why 10,000?
Because this gives your readers a good short read experience. This size of book can easily be read in one sitting and give you enough space to talk about a non-complex topic.
I'm going to let you in on a little secret. A majority of my books are only about 10,000 words long. It's true that they're part of a larger series, but usually, people don't end up buying the entire series. I've made thousands of dollars in royalties due to writing a series of short books.
If you do end up writing the book that is 10,000 words, consider writing a series like I have. That way you can easily write the books. And I actually ended up using the same template for each of my books, making the writing process faster. In addition, you can bring in additional royalties from more than one book with a series.
All right. The word count to sell more than books. We all know that writing a book can help you build a brand. Oh, you didn't know? Writing a book can provide so much more than book royalties.
It can:
Build brand awareness
Generate new qualified leads for your business
Help you land speaking engagements
Help you land podcast interviews
Help you sell a course
Help you sell a coaching or consulting program
and so much more.
If you're writing the book that leads up to a bigger sale, you'll need to write more than 10,000 words. The bare minimum for this type of book is 20,000 words, in my opinion. The reason we need at least 20,000 words is that you want the book to be long enough to provide value to the reader without them feeling cheated. A 10,000 word book will not cut it when you're trying to sell a $2,000 plus program on the backend.
Some people will say the longer, the better, but there's a limit on how long a button needs to be if its main purpose is to lead to a bigger sale later on down the line. You don't want to fill your book with fluff just to get to a certain word count. But you also don't want to write a novel when things can be succinctly summarized.
If your book is too long, you run the risk of boring people when they are type A, like me, who just wants you to get to the point. So long story short, the length of your first book varies depending on what you're writing the book for.
In today's episode, I covered the question every first-time author asks…."How long does my book need to be?"
If you loved this episode, make sure to leave us a review and hit subscribe to stay updated with the latest episodes.
Links mentioned in this episode:
Acadium: https://bit.ly/nacholementor
Connect with us on social media!
Facebook: https://www.facebook.com/studio8twentytwo
Instagram: https://www.instagram.com/studio8twentytwo/
Pinterest: https://pin.it/7mqIZVP
Grab a copy of Write a Book, Build a Brandhttps://bit.ly/WBBB_biz
Ready to Script Your Brand™? Apply here: https://bit.ly/SYBapplynow